Yacht Deliveries and yacht transport makes sense with professional yacht captains.
This article is written by a free-lance yacht captain who regularly delivers yachts and transports yachts along the US eastern seaboard and the Bahamas.
For the past fifteen years or so, yacht transport and deliveries have been a sizable and important part of my business. Many are to the Bahamas and Caribbean but the majority are along the east coast and take place during the spring and fall migrations. Most involve motor yachts but the occasional sailboat sneaks its way in just to keep life interesting. In the next few paragraphs I would like to describe what a typical east coast delivery is like for a delivery captain including the routes I like to take and a few of my favorite stops. Since we are nearing springtime I will start in Ft. Lauderdale and head north as many boaters will be doing in the coming months.
Most owner/operators treat this trip as a vacation and an opportunity to use their pride and joy and visit some of the many accommodating and historic ports along the way. As a delivery captain my mission is to get my customer's yacht from point A to point B safely, undamaged and as economically as possible. The exception being when I make the trip with an owner's party on board for all or part of the voyage.
On the trip I will generally run ten to 14 hours per day with the occasional overnight travel when weather and fuel capacity dictates. I have favorite marinas I like to stop at that I have been frequenting for years because they meet my needs. They are conveniently located, can be gotten in and out of safely in bad weather and after dark and allow me to fuel in my slip rather than having to move to a fuel dock. The last item is pretty important after a long day and saves a lot of time when taking on 500 or a thousand gallons of fuel. I rarely anchor out because most anchorages along the way fill up early, it requires additional crew for anchor watches and we usually have to go in for fuel anyway. Also, the cost for dockage is relatively inexpensive compared to South Florida prices when you get a little further north. It also allows captain and crew to get a good nights' rest before the typical pre-dawn departure.
Most delivery captains, myself included, will tell you that their version of hell would be to have to travel Florida's intercoastal waterway back and forth non-stop as punishment for their sins. Ft. Lauderdale to Palm Beach alone can easily be six or seven hours of torture navigating no wake zones and bridge schedules that seem designed specifically to frustrate boaters. My goal, weather permitting, is to travel outside as often as possible. In fact I like to stay offshore until I get to Beaufort, NC. and if the vessel has the fuel capacity, I will travel non-stop for two or three days to get there. Cruising speed during daylight hours and around ten knots after dark.
This might be a good point to mention the condition of the Intercoastal Waterway. As I noted earlier, the South Florida section is slow due to congestion but some parts of Northern Florida and most of Georgia, South Carolina and southern North Carolina have areas that have shoaled so badly that if you draw anywhere near five feet you have to play the tides for safe passage. An example in Georgia would be the Little Mud River area near Savannah, where many boats have to anchor and wait for a rising tide . Then there's the Myrtle Beach area in South Carolina. Due to no wake zones and bridges you would be hard pressed to make one hundred miles in a day. So an outside run is preferred and there are good deep water inlets all along the way with readily available fuel and dockage.
When in Beaufort, NC, I always stay at and recommend The Beaufort Docks. Well protected with fuel available at every slip and located conveniently in town.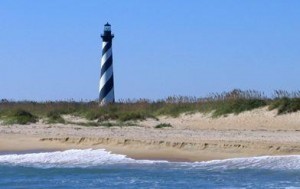 Heading north from Beaufort I generally go inside through the sounds. In good weather going outside around Cape Hatteras can save some time but the inlets south of the Chesapeake can be difficult (require local knowledge) and the distances involved in getting out around Capes Lookout and Hatteras make the trip difficult to do in a day (challenging the range of smaller boats). I generally make the inside run up Adams Creek to the Neuse River, then Pamlico and Albermarle Sounds; stopping for the night at the famous Coinjock Marina. Coinjock offers a long face dock with fuel at every slip, a small but well stocked store and a restaurant that serves the best prime rib on the trip. The run is about one hundred and fifty miles but there are only a couple of very short no wake zones and the sounds are autopilot friendly. There are two fixed bridges of a little over thirty feet so be sure to check your vertical clearance or you may have to go the slower route through the Alligator River/Pungo River Canal.
From here it is only fifty statute miles to Norfolk, VA but you need to check the bridge and lock schedules carefully and get your timing right. In Norfolk, some of the bridges do not open during morning and afternoon rush hours starting as early as three thirty PM. The Norfolk area also has tight security with a lot of enforcement so watch your wake and don't stray to close to any naval vessels. Tidewater Marine in Portsmouth, VA is a good place to stop for the night but there are many others to choose from if there is time to cover a few more miles.
The next leg involves exiting the Chesapeake Bay and traveling north on the outside. Depending on the weather and the vessels range my next stop may be Ocean City, MD, Cape May, NJ or my preferred stop, Atlantic City. I usually arrange to stay at Kammerman's Fuel Dock and go directly to my favorite Italian restaurant.
From Atlantic City it is an easy run up the Jersey coast into New York Harbor. If my destination is further north I go up the East River to Long Island Sound with all types of facilities to choose from and then on to Newport, RI, the Cape Cod Canal or wherever this yacht's summer home happens to be. Then it's usually a quick trip to the airport and back to Ft. Lauderdale to start it all over again.
As far as time is concerned there are many variables, not the least of which is weather, but I have made the trip from Ft. Lauderdale to New York City in as little as three days in a Hatteras Sportfish (just had to get there) and as long as three weeks in a sixty foot vintage Feadship trawler at six and a half knots.
Delivering yachts is often demanding and full of surprises – not only due to weather, but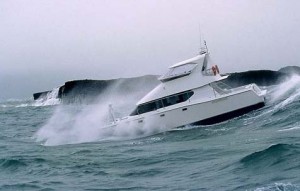 problems that show up with the boats. However, every trip offers variety, great scenery and the ability to be on the water. This reason (second to paying my bills) is what keeps me coming back.
Written by Captain Steve Dumont – Fort Lauderdale, Florida
Cell (954) 614-5092
Email bfyachtservice@yahoo.com
Steve is a free lance yacht captain with many years of experience, and all-round knowledge of motor yachts, sportfishing yachts, trawler yachts and sailing yachts. He is available for yacht deliveries and refit/maintenance services for new yachts or used yachts.
Related Articles include "Transporting Yachts" on transport ships.
Contact Andy Kniffin, President of Ak Yachts for more information and assistance with all your yachting needs! (954) 292-0629, andy@akyachts.com