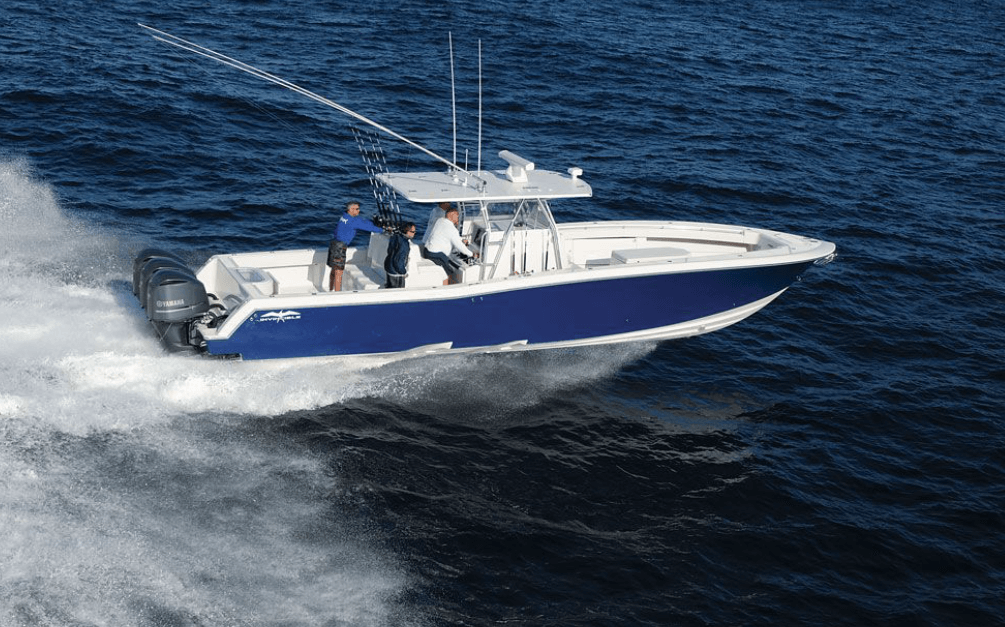 About Center Console Yachts
By far the most popular style made possible by the rapid advent in outboard engineering (along with multi-engine configuration), center consoles boats are the favored day use boat to enjoy water sports and use as larger yacht tenders.
Today these boats are built to as large as 65'! While a center console boat is by far the most popular style for fishing and water sports, there are many models with outboard power that feature more space and relaxation – offering side-steering and extra seating. Catamaran hull shapes are especially gaining popularity for efficiency, volume, and seakeeping.
Feel free to use our yacht search to find the ideal candidate by region, brand, price, age, and features! Updated daily!
If you would like to discuss your goals, we would like to know more and find that special outboard-powered boat that meets your requirements – at no obligation!
Center Console Yachts for Sale
Let's talk about outboard-powered boats; which include center console yachts for sale and sport cruisers for sale.
Looking for luxury?
When you think of a yacht, often you envision a large boat with nice accommodations and amenities such as a galley. Who would have thought that the center console boats we kicked out in with our buddies would turn into high-speed luxury yachts? Currently, outboard powered yachts include models with both a galley, bath and sleeping accommodations up to over 65' in length. Speed and comfort are the key features to larger center consoles for sale. Imagine cruising to the Bahamas from Florida (50 nautical miles) in less than an hour!
Fishing and Diving Enthusiasts
Are you a diving or fishing enthusiast? Most of you will prefer a center console yacht (or boat) for sale, mostly because of the walkaround decks allowing for fighting fish. Trailer-able sizes (up to around 33') have a beam (wideness) of less than 10' (over 8' needs a special permit) and can take advantage of launching at boat ramps scattered throughout South Florida and the Keys.
Larger center console yachts stay either in covered dry storage facilities with forklift service, behind yacht homes on powered lifts, or in the water tied to docks.
Do You Prefer Day-Tripping?
Are you more interested in day cruising or day-tripping? Sport cruiser outboard yachts are also very popular if fishing and diving is not your thing. Designed for day trips, many models are available up to 40' which feature forward seating with a split windscreen (for easy accessibility) and plenty of seating for guests along with amenities including a head, easy access for swimming, and plenty of shade.
Along with open sport cruisers, there are now outboard-powered Downeast yachts, and enclosed (air-conditioned) sport cruisers that feature upscale accommodations.
Towing a larger center console or sport cruiser?
Do you have a large yacht? Many large yachts in South Florida elect to tow a sizable center console boat behind in order to increase the ability for watersports while cruising to the islands. Special towing lines and a tow-eye can be custom-made to order for any of these outboard boats. Caution though – you will need some experience to tow these tenders and do it when the weather is calmer.
Let's Look at The Engines
As outboard engines grow larger (up to 600 horsepower with the new Mercury Verado V12 ) these modular, quiet and reliable engines have been incorporated into these models with up to 6 outboard engines! Modern four-stroke technology has revolutionized the power, reliability, and noise-free operation of these large outboard engines. Most popular engines now include power steering, digital controls, and option dynamic positioning with joystick operation (no more bow thruster needed)!
Popular outboard engines include Mercury, Yamaha, and Suzuki.
We Have Them All!
Why spend extra money on a brand-new boat (with all the brand new troubles that go along with the first year)? Check out our comprehensive and updated list of large center console yachts for sale and outboard-powered cruisers for sale.
Please share your goals!
Are you considering the purchase of a used outboard-powered center console or other configuration? Ak Yachts of Fort Lauderdale offers expert advice and guidance for all varieties of such! We are highly experienced ex-captains and are interested in saving you time, effort, and $$$ in addition to ongoing support! Please contact us at (954) 889-7330 or email info@akyachts.com to share your goals!