Why a Buyer's Yacht Broker makes Sense!
Why Yachting?
Yachting allows the few privileged folks in the world to enjoy places and island destinations on our world's beautiful oceans not easily accessible, along with an enhanced value of privacy, personalized surroundings and an ideal base for close family/friendships. Due to the complexity of modern yachts – it can be a daunting task to find the best yacht to suit personal needs and goals.
Why use a Yacht Broker?
Often paralleling other high end sales including real estate and aviation; it can be very difficult to try to sell or buy a high end commodity such as a yacht on your own. The vast majority of yacht sellers realize the need to engage a professional yacht broker (one who is experienced, recognized by legal protocols, belonging to a professional affiliation and offering certification of competency). Thus, almost every large yacht is marketed and sold by a yacht broker. Reputable yacht brokers are a necessity when dealing with the complexities of successfully marketing and selling (or buying) a yacht.
The thing is that many 'so-called' yacht brokers are not created equal. It is a complicated transaction whereby experience in technical expertise, business acumen and good ethics are played out.
Most Yacht Buyers are Entrepreneurs who realize the value of Expert Consultation via a professional Yacht Broker
The majority of yacht buyers tend to be self-made successful entrepreneurs who did not get where they are by being experts in all fields! Sooner or later, such endowed individuals realize the value of finding a trusted and knowledgeable consultant to rely on. Especially one that can be relied on to 'smooth the path' not only for the purchase/sale but provide ongoing professional support. Since a large amount of investment is often required…it pays to engage a trusted advisor.
Facts in Dealing with the Players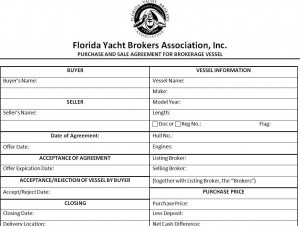 The fact is that a commission will be paid by the seller upon successful sale (nobody works for free unless they are doing this as a hobby). Paralleling real estate, this commission is often split between a listing broker and a selling (or buying) broker. Some yacht buyers figure that the best way to save money is to engage the listing broker directly; thinking that they will save a small percentage of the price by 'cutting' the commission. While this thinking might work for smaller purchases, it is dangerous to the yacht buyer and full of potential conflict between interests with the larger, more expensive yacht purchases.
And it doesn't cost any buyer anything more since the buyer does not pay any commission!
Compelling reasons why a large yacht sale should have separate representation
Fiduciary Responsibility – The listing broker has a fiduciary obligation to represent the seller and similarly the buyer's broker. In smaller yachts whereby the systems are not as complex as the larger yachts; a yacht broker representing both the buyer and the seller (known as a 'dual agent') is not a critical issue as long as the broker represents both parties (buyer and seller) honestly. As the value and complexity of the yacht in mind becomes greater, the greater the pitfalls.

As yachts become larger

– the systems, maintenance, resale value and a myriad of other factors geometrically increase in importance (which relays to the bottom-line cost). Thus, the argument for a buyer's yacht broker becomes more important. The vast majority of experienced yacht buyers realize this as a fact and seek to engage a broker who understands not only their personal goals and requirements but also know that they will stand a better chance of

getting what they want…. at the best value!

Loyalty Hey…. we all want to spend our time effectively! Fact is, most of our time as yacht brokers are spent with buyers who are not either serious, focused on what they want, nor loyal. As a fundamental truism with any business, yacht brokers desire to spend energy with productive results… knowing that a sense of loyalty from the buyer is one that is earned and thus the energy spent to find the right boat for the buyer will be dramatically increased!

Yacht brokers have a community. Reputable yacht brokers share confidential information more freely with fellow recognized brokers than with an unknown buyer (or broker). With this yacht broker community in mind (just as in any close business community), it is sometimes possible that the yacht buyer's broker will find attractive yachts which meet buyers' criteria which may not be actively on the market!

A reputable yacht buyer's broker will go the extra mile to ensure that you are going to be satisfied both during the purchase and afterwards with a valued collection of trusted technicians and fellow yacht professionals. You are not just a name and another deal…you are a valued customer and often a lifelong friend who will often rely on their yacht broker upon to assist in any situation! Most reliable yacht brokers are ex-captains who know where to go and how to do it with phenomenal expertise!
Contact Ak Yachts for expert advice!
If this reasoning works for you; we encourage you to contact Ak Yachts….experienced yacht brokers for all types of yachts (including power and sail) worldwide. We assure you that we can provide highly professional consultation and handle all your yachting needs so that you can start enjoying this wonderful lifestyle now – assuring you the best possible service at all times!