Westport Yachts Company Profile

  
Established: 1964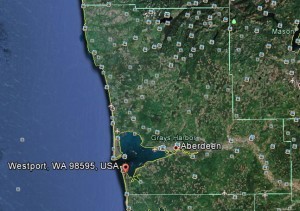 Located: Westport, Washington, USA
Construction: Power Boats and Large Type Yachts
Category: Motor Yachts
Worth Noting: Westport has one of the longest experience pools of skill in constructing composite hull yachts and commercial vessels.
Westport Yachts was originally founded in the mid-1960s with a market focus on meeting a niche category of customers: commercial fishing outfits and high-speed water travel companies providing transport for hire. The company started out with targeted boat designs to commercial fishing customers as well as companies that wanted to provide fast passenger ferry services. Luxury motor yachts made up the third category of business for the company, which primarily served the North Pacific in its early years before expanding to wider markets.
Westport Yachts offer State of the Art Engineering and Design
Because the company started with designed fishing vessels that had to be capable of handling strong seas and adverse water conditions, the same protections were also made key elements in the design of Westport yachts and other vessels as well. Through this same research, Westport Yachts became the leading firm in the use of composite construction of yacht-size boat hulls and framing. Since those early years, the company now has deep experience in composite construction, with the aggregate construction of over 120 large vessels under its belt.
Westport Yacht's focus continues to emphasize four main areas in its yacht and vessel manufacturing. These elements include: design, process engineering, specialized features, and excellence.
On the design side the company has continued to retain a deep-experienced pool of boat design architects with both naval, marine and design engineering backgrounds. Their staff are integrated and have strong reputations in the industry which in turn produces a high quality vessel product for the company and customers.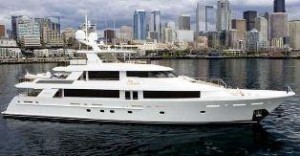 Because Westport Yachts puts so much effort and time into the process engineering of a new boat project, the finished product comes up with critical accuracy on every component.
Westport also enjoys specialized facilities through three shipyards. These include in-house staff both for hull manufacturing as well as internal plumbing, wiring and carpentry. Because the company is able to integrate so much of the construction in the same shipyard, the end product shows high coordination between various components and assembly.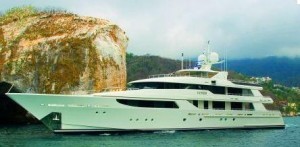 Finally, the company succeeds on the prior successes of its veteran staff, each individual bringing decades of wisdom and experience to the table. So the quality and product produced represent a consistent standard of a Westport yacht production every time a boat is released.
Westport Yachts Models
Several production models (which offer limited customization to buyers) are currently offered – including a Pacific Marine 85′ raised pilothouse yacht (built in Hoquiam, Washington), a 98′ raised pilothouse yacht, a 112′ raised pilothouse yacht, 130′ tri-deck  yacht and a 164′ trideck yacht (built in Port Angeles, Washington)….making Westport one of the pre-eminent raised pilothouse and trideck yacht builders in the world!
Due to the fact that Westport yachts are built in the US very close to Seattle and the famous cruising waters of the Pacific Northwest, they are very desirable for owners who wish to charter.   Designers of note include William Garden and Donald Starkey. Due to their high tech construction which allows for a very strong design, yet lightweight and thus very agile – Westport yachts also enjoy a high value retention due to the demand.
If you have interest in a Westport Yacht for sale (or other motor yachts for sale), please check out our up-to-date market search and contact us!