Facts about Long Range Yachts for Sale
Ak Yachts provides information on long range yachts for sale worldwide. Located in Fort Lauderdale, Florida which is the center of world for long range yachts for sale, there are many different varieties to choose from. Here is some information about long range yachts: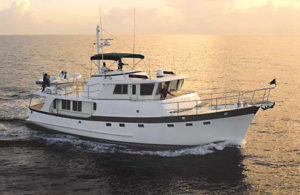 All long range yachts for sale share a common feature found in their ability to conserve fuel by operating at 'displacement' or 'hull speed'. The shape of the hull is different from other yachts. Long range yachts are designed to go slower with better comfort in more severe sea conditions. Because of the hull design, less power is needed to obtain the optimum speed which translates to better fuel economy. And because extra weight from carrying large quantities of fuel is not a concern, long range yachts have the ability to carry extra fuel which translates into longer 'range' or the ability to go further.
Bulbous bows are an improvement in hull design by means of a hydro-dynamic appendage which thrusts forward below the waterline at the boat and thus 'spreads' the bow wave allowing for more efficient displacement speeds and typically used on large ocean going freighters for improving fuel economy. There is some debate among yacht designers who feel that a bulbous bow is not practical for fuel savings until a yacht is over 80′ in length.
Types of Long Range Yachts
Trawler yachts typically refer to smaller long range yachts and range between 40 feet to somewhere shy of 100 feet in length. The word 'trawler' comes from a long range commercial boat which carries nets to catch fish and shellfish. Trawlers are immensely popular around the world as they offer the ability to explore far off cruising destination. Popular trawler brands are mostly built in Taiwan or China for US, European and Australian trawler enthusiasts.
Adventure or expedition yachts are typically more than 100 feet in length and often a vessel which at one time was a commercial vessel which has been converted to a private yacht with more upscale and comfortable living accommodations. Offshore oil supply vessels and retired government research vessels are popular platforms to convert to yacht use. This often in involves 'gutting' the interior and modernizing with rich cabinetry and furnishing, along with removing most commercial gear and adding modern electronics. There are companies which specialize in doing this type of work which have been doing this successfully in west Mexico and the Pacific Northwest.
A recent trend in long range yachts for sale has been increasing with the popularity of expedition yachts which are built from scratch and often feature a tall aft superstructure for accommodations and the wheelhouse with a long foredeck for storing tenders aboard and a crew area forward. Due to the cost of converting older commercial vessels, it is often beneficial to build an expedition yacht as new. These long range yachts are typically built with a steel hull and an aluminum superstructure for more stability as aluminum is lighter than steel, but not quite as rugged.
Long range yachts for sale can also include stylish motor yachts which are designed to go slower with more range and with less horsepower. This motor yacht style is often referred to as a 'long range cruiser' or LRC. Indeed, many mega yachts and super yachts do not benefit by larger horsepower because of the immense fuel requirements needed to go faster, thus opt for less horsepower and range.
Some Long Range Yachts can go anywhere on the Globe
Some long range yachts have the ability to even explore the polar regions, especially with the opening of the Canadian artic shield which allows transit via the northwest passage from the Atlantic to the Pacific ocean.
However long range yacht who navigate this passage should have extra protection against ice damage at the waterline bow area, which is comprised of extra layers of steel welded to the hull. The term for this feature is 'ice class'.
Note that with the advent of ocean going transport ships, many yachts have the desirable option to have their yacht commercially transported around the globe. Key areas for yacht transport opportunities include the east
coast USA west coast USA and the Pacific Northwest, west coast Central America, the Mediterranean, Tahiti and Australia.
Are you considering a yacht which can take you to cruising destinations around the globe? Ak Yachts offers expert guidance and consultation for any long range yacht for sale. We can not only guide you in your quest to find the ideal long range yacht at the ideal price, but also provide ongoing support including modifications, insurance, financing, crew placement and resale. Please contact us anytime to share your thoughts and goals so that we can help you to make your cruising dreams come true!
Contact Andy Kniffin CPYB at (954) 889-7330 or andy@akyachts.com