Express Yachts or Express Cruiser – What are they?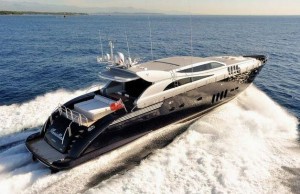 Express yachts or express cruisers are fast yachts with one deck and a large cockpit with plenty of outdoor space.  An express yacht  is typically over 35′  used for day trips. An express cruiser can be interpreted as the same with an emphasis on comfortable longer cruising and long weekends with an emphasis on speed.  This translates to 'fun' and getting places fast!  A performance boat or  performance yacht puts speed first for exciting rides with friends and family!  Most of the popular express yacht, express cruiser or performance yacht builders put an emphasis on style and the newest technology available!
Sizes for express yachts, express cruisers or a performance yacht can range anywhere between 30-over 100 feet in length.  Express cruisers or performance yachts under 40′ in length employ inboard or outboard gasoline powered engines.  Above 40′ , express yachts employ diesel powered engines and occasionally turbine engines (if speed is what you really need).
The accommodations on express yachts or express cruisers are often forward with most space outside.  A salon with a galley is usually found just inside the access door with one to four staterooms for overnight voyages.
Express yachts and express cruisers are typically  deep-v planing hulls constructed of a fiberglass sandwich construction for light and strong qualities.
An express yacht is fine for coastal and light sea cruising with range of perhaps 300 miles and ability to comfortably cruise in moderate seas. These yachts are very popular in the US and the Mediterranean.
Express Yachts for sale offer great amenities:

Many express yachts  and express cruisers offer a tender lift (which allows the swim platform to lower), a davit or a 'tender garage'  for carrying a personal water craft or a small tender to use while anchored.
Modern express yachts feature high tech electronics including satellite television, gps plotters, autopilot and communication.  These are  standard equipment for yacht owners on the go!
Stabilizers are usually not found on express or performance cruisers, unless the stabilization unit is gyroscopic as fin type stabilizers are only effective at lower speeds. The express cruiser planing hull is not typically affected by 'roll' which the stabilizers try to counteract.
Many express cruisers or express yachts are also equipped with air conditioned helm areas equipped with hard tops and sliding overhead sun roofs – you gotta stay cool in the sun!
Express yachts are usually equipped with larger engines designed for speed. Popular engine configurations for express cruisers are  v-drives, pod drives, direct drives and for performance boats, surface piercing drives (also known as Arnenson drives).  Many modern express boats are using 'pod' drives (Cummins, Zeus and Volvo IPS which are easy to dock and provide more room for accommodations.
Express Yacht Manufacturers:
European express yacht builders include:
Atlantis yachts, Azimut yachts, Baglietto yachts, Fairline yachts, Pershing yachts, Mangusta yachts,  Rodriquez yachts,  Princess yachts and  Sunseeker yachts
North American express yacht builders include:
Cruisers yachts,  Lazarra yachts, Marquis yachts,  Sea ray yachts,  Tiara yachts and Regal yachts
Down east express yacht builders include:
Down east style express yachts are reminiscent of by gone luxury day boats and offer traditional popularity among US boaters.  Some down east style express yachts are a combination of traditional 'square' styling and more modern 'curved' styling.
Eastbay yachts,  Hinckley yachts,  Sabre yachts, San Juan yachts, Soluna yachts and Vicem yachts, Zeelander yachts are popular down east style express yachts.
South Florida offers a wide variety of luxury new and used yachts for sale.  Savvy yacht buyers and sellers know that this area is where the most yacht sales occur.  Many owners take advantage of our warm winters (often at inexpensive private docks) to enjoy yachting while their boat is for sale.  Feel free to contact us anytime to share your thoughts and goals!