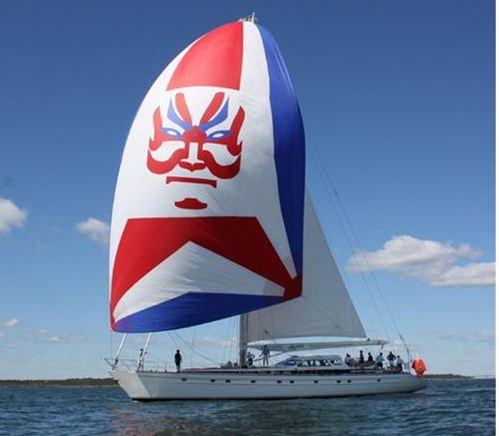 "Azzura" 1998 96′ Jongert Sailing Yacht for Sale
Jongert sailing yachts are perhaps the finest built sailing yachts in the world.  This beautiful Jongert is a world class sailing yacht in top condition.  She features an enclosed deck salon and a unique folding keel which allows her to navigate in shallow waters!  Always maintained to perfection and upgraded to the latest standards – "Azzura" is seriously for sale with a motivated seller!
| | |
| --- | --- |
| LOA: | 96′ 0″ (29.26m) |
| Beam: | 22′ 0″ (6.71m) |
| Draft: | Max 14′ 0″ (4.27m) |
| Speed: | 8 Knots  /  11 Knots |
| Location: | West Palm Beach, Florida |
| Country: | United States |
| Region: | Florida – S.E. |

Model Year:
Mfg-1998 Refit-2008
Model-1998
Builder:
JONGERT
Category:

Cruising Sailboat

Price:
2 995 000 € EUR
$3,916,056 USD Approx
Additional Specifications For AZZURA
LOA:
96′ 0″ (29.26m)
Mfg Length:
n/a
LWL:
83′ 0″ (25.30m)
LOD:
n/a
Beam:
22′ 0″ (6.71m)
Draft:
14′ 0″ (4.27m)
Hull Material:
Aluminum
HullConfig:
n/a
Hull Designer:
Doug Peterson
Deck Material:
Teak over Aluminum
Tonnage:
n/a
Range:
1,680 Miles
Interior Designer:
n/a
Exterior Designer:
n/a
Fuel Capacity:
5,280 Liters
Water Capacity:
3,000 Liters
Holding Tank:
n/a
Flag:
n/a
Location:
West Palm Beach, Florida
Country:
United States
Region:
Florida – S.E.

Year:
Mfg-1998 Refit-2008
Model-1998
Manufacturer:
JONGERT
Model:
1998 Model
Category:

Cruising Sailboat

Top:
n/a
Speed:
11 Knots
Engines:
8 Knots  /
Engines Year:
Staterooms:
3
Sleeps:
0
Crew Quarters:
n/a
Classification:
MCA:
n/a
ISM:
n/a
Price:
2 995 000 € EUR
$3,916,056 USD Approx
Overview
Azzura was launched in 1998. Since new the same owner and same captain have been caring for Azzura with an open checkbook. After the summer season 2007, Azzura went back to the Jongert yard for a 10 year refit with the intention to essentially zero the clock. She emerged in August 2008 with brand new decks, new rigging, new paint, new generators…down to cleaning all the tanks, sand blasting and recoating them.
One of the most seductive qualities about Azzura is her sleek Doug Peterson line teamed up with the Jongert patented folding keel and hydraulic retracting coach roof. Beauty, comfort and flexible cruising are rolled into one!
---
Accommodations
The aft section contains three staterooms for owner and guests. The master stateroom is full-width aft with queen bed centerline, two double-opening full-length closets (one with shelves and drawers), and drawers beneath the bed. Centerline is the entertainment center with vanity and sofa to starboard. The ensuite bath is to port.
A centerline corridor leads forward to two identical staterooms port and starboard; they have twin beds with a bureau in between, full length locker, drawers and shelves with ensuite bath.
Before the stairs leading up to the raised salon is a foyer with a small office area with a desk and entry into the engine room which is located under the salon. Two locker on either side provide storage; one is a bona-fide wet locker.
The salon is bright and airy due to hatches above, port lights and portholes in the hull.  To port is a dining table which can be extended by leaves hidden in the center of the table, a savvy table design by Jongert. It is surrounded by a u-shaped settee, properly designed for maximum comfort. Two dining chairs round out the seating arrangement.  To the side of the dining area and at the base of the companionway is the bar featuring a refrigerator, icemaker and sink, nicely tucked away when not in use. To starboard is the lounge area with settee, a recliner, two chairs and table.  The entertainment center is centered on the forward wall; lovely cabinets flank either side, containing glassware and cutlery. This is a comfortable, practical, lively room.
Forward to port, a door activated electronically leads to the service area.  To port is a crew dinette; underneath the benches are the washer and dryer. To starboard is a large galley (See Galley List). Forward are two crew cabins with hanging locker, drawers and outboard shelves; each with ensuite head. To port is a cabin with over/under staggered bunks. To starboard the captain's cabin has a lower bed which can be converted to a double and an upper single bed.
The interior is rich teak complemented by cream-colored ultra-suede and azure blue.  Floors are carpeted except for the galley which has a cork floor.  All rooms have individual temperature controls for the air-conditioning/heating system. Fresh air comes into the boat from 98' (30m) up the mast for the air-conditioning/heating system and forced air ventilation. DC fans and natural ventilation are also an option. All hatches have sturdy wood-framed mosquito and blackout screens; all ports are opening featuring a wonderful detail—under each porthole an internal scupper system takes any stray water to the grey tank. Curtains provide privacy; A variety of lights from activity lights to overhead and courtesy lighting can set the mood.  Closets are cedar-lined with automatic lights.  Bathrooms are white Corian, including the floor, with teak and metal accents. Toilets are fresh-water. Custom, round Jongert showers, mirrored medicine cabinets and plenty of counter space at the sink complete this room.
The deck is a masterful arrangement of luxurious living and practical yacht operation.  Forward a Bruce anchor nestles into the stem of the hull. There is no on-deck hassle with the anchor. A large sail locker and crew access are forward.  The cockpit is another Jongert marvel.  The roof that covers the protected cockpit can hydraulically retract to half the size, thus letting sunlight pour in if desired.  This protected area houses the interior steering forward starboard and another station on the other side; visibility is superb as it is well above deck level.  Two tables port and starboard provide seating for 10. For parties of 6 one table can be used as two stools swing out from the inboard side.   Dining is a delight here, with or without a roof over your head.  The cockpit is well protected, extremely safe, and two steps lower than the steering cockpit farther aft which offers a clear view above the coach roof.   Aft of the cockpit, winches are grouped for easy out-of-the-way sail handling.  A large garage holds a 14' dinghy (without covering the emergency tiller). The fold-out transom provides an enormous "beach" (11' x 6.5'); a ladder leads into the water or steps lead to the deck.  A hydraulic passarelle telescopes out from the starboard side of the transom.
---
Galley
| | |
| --- | --- |
| Stove Top / Oven | Miele 4 burner electric stove top with ventilator hood, oven and broiler (New 2007) |
| Microwave | Miele (New 2007) |
| Dishwasher | Miele G7856 (New 2007) |
| Garbage Disposal | Sinkerator; goes into the gray tank |
| Refrigerator(s)/Freezer(s) | 4 x Frigoboat; located in galley; each can be fridge or freezer depending on temperature set. Customized for better airflow and less condensation which goes to grey tank.  (New 2007)1 x Igloo; 24 v, under galley floor1 x Scottsman located in salon1 x  Frigoboat; 24v, located in cockpit |
| Icemaker | 1 x Scotsman; located in salon |
| Washer | Miele WF5425 professional |
| Dryer | Miele T5206 professional |
---
Electronics
| | |
| --- | --- |
| Radar | Furuno FR1510 MK3 Color (72m) ARP (new 2006) |
| GPS | 2 x MX Marine 4200; one at each helm; interfaced with navigation computer |
| Navigation Computer | Transas NS2400 w/ world portfolioSeabook MZ-RACE, repeater of nav computer for outside helm |
| Weatherfax | Furuno Navtex NX500 |
| SSB | Sailor RE2100 |
| VHF | 1 x Sailor compact VHF RT2047-D with a DSC-RM20422 x ICOM handheld |
| Wind / Speed/ Depth  Monitors | B&G Hydra 2000; Repeaters: 2 located in captain's cabin; 1 located in master stateroom |
| | |
| Compass | 1 x Plath2 x Simrad electronic fluxgate |
| Autopilot | Segatron |
| Steering | Whitlock; mechanical or hydraulic power |
---
Communications
| | |
| --- | --- |
| Sat-Com | Trimble Sat-com CThrane and Thrane Mini-M (includes fax) |
| Intercom | PBX Panasonic |
| Computer(s) | 2 x computers: 1 for satcom, 1 for wireless.HP OfficeJet All in One, with wireless access |
| Printer, Fax, Copy, Scanner | "Office" houses HP OfficeJet plus connection outlet for laptop to plug directly into Mini-M. |
---
Entertainment
| | |
| --- | --- |
| Salon: | 1 x 26" Sharp flat screen, HD-HDMI1 x Onkyo DVD DVCP702; carrousel of  6 DVD/CD1 x Onkyo AV Receiver TX SR503Surround sound with 4 Bose speakers andsubwoofer |
| Master Stateroom: | 1 x 21" Panasonic TV,1 x  Mintek DVD-16001 x Pioneer CD/radio2 x JVL speakers |
| Guest Staterooms | 1 x 13" Trinitron TV1 x  Pioneer CD/radio2 x Infinity speakers |
| Crew quarters | 1 x 21" JVC TV Super Multi 21 K Series1 x Audiovox MVDVD4 DVD/CD + IPod1 x Sony CD/radio player2 x Infinity speakers |
| Speaker(s) | 2 x Infinity in each Stateroom4 x Bose Surround Sound in Salon |
---
Electrical
| | |
| --- | --- |
| Generator(s)AC: 110v , 220v., 400v; 50 hz, 60 hzDC: 12v; 24v; single and 3 phase | 2 x Northern Lights ML944: 25kw; 10,900 hrs on each as of 4/11; 220v / 50 hz, 3-phase; underwater split exhaust, (New 2007) |
| Shore PowerConverterInverter(s)Transformer | 1 x CordAtlas; Master Volt Converter M524/3000 (new 2007)2 x inverters: 1 for ventilation, 24v to 220v; 1 for outlets, 24v to 110v or 220v (throughout the boat), (New 2007)Master Volt Galvanic Transformer |
| Battery Charger(s) | 4 x Master volt; 24/100 amp (new 2007) |
| Alternator(s) | 1 x 90 amp on main engine1 x 120 amp on turning shaft to power autopilot |
| Battery(s) | Master Volt service batteries: 2500 amp hrs, gel cell, (new 2007)Master Volt starting batteries: separate bank for starting engine and generators, can be paralleled w/ service bank, (new 2007) |
---
Deck & Hull
Hull
Aluminum; built and classed to Lloyds 100A1. Hull and superstructure painted Awlgrip Off White 8010. Underbody sanded, put on barrier coat, primer and Interlux new Micron 66,officially meeting international environmental standards. (All paint new 2007)
Deck
Teak decks by TDS (new 2007). Aluminum and marine ply sub-decks.
Windlass
Lewmar 5000
Winches
LewmarAft deck:2 x HST 1100 primaries1 x HST 88 main sheet2 x ST 88 staysail2 x ST 66 running backs3 x ST 64; 2 for lead cars, 1 for travelerAt mast:1 x HST 77 work horse3 x ST 66
Anchor
1 x Bruce,110 kilos1 x Fortress storm anchor
Chain
1 x 100m x 16mm1 x  chain lead plus 200 ft of rode
Shower
Freshwater with hot and cold located on transom
Hose(s)
1 x Freshwater1 x Saltwater
Spigot(s)
Freshwater located amidships for washdown
Saltwater located amidships for fire fighting
Passarelle
1 x Hydromar hydraulic; telescopes from starboard aft section of transom
Transom
Steps at transom with another ladder that extends into water from transom "beach", 11'x 6.5'
Side gangway
Electric gangway: custom, stored in hull
---
Mechanical Equipment
| | |
| --- | --- |
| Engine | Mercedes Benz 183 Natural 345 hp  ( rebuilt 2007)1000 hours as of 10/08; water separated exhaust; (all exhaust hoses replaced 2007)@1400 RPM consumption is 6.7 gallons per hour with 1 generator |
| Transmission | ZF IRM 310A  2.558 |
| Fuel Filtration | 2 x Raycor1 x Primary |
| Bow Thruster | Hydromar 42hp |
| Stern Thruster | Hydromar 35hp |
| Air ConditioningWater MakerWater Heater | Marine Air: reverse cycle; (all 3 compressors are new 2007); air conditioning water exhaust routed underneath boat (New 2007); Every room has thermostat.HEM, 1400 gal/d (reconditioned 2007)Kookur (New heating element 2005) |
| WasteBlack Water Tank | Hamann Super Mini; Coast Guard and MCA approved. (New 2007)1 tank forward; connected to Hamann waste treatment system. In 2007 the 680 liter black tank aft was converted to another fuel tank. |
| Grey Water | 2 x tanks 1 forward; 1 aft |
| Toilet(s) | 5 x Mobi Flush; freshwater |
| Deck Pumpout | Yes |
| Bilges | 1 x Sihl electric bilge pump servicing entire bilge                                                                                        2 x Jabsco belt-driven from engine |
---
Safety and Fire Protection
| | |
| --- | --- |
| Alarm System | 1 x Located in galley for fire, bilges1 x Low battery, low air, high water etc |
| Fire Hose | Located mid-ship |
| Life Raft | 2 x 8 PAX BFA Marine |
| EPIRB | 1 x ACR |
| MOB | 2 |
| Safety Harness | 6 |
| Life Jacket(s) | 20 |
| Fire System | 4 Extinguishers in engine room:1 x Fire Boy; activated from outside the engine room; automatically closes off air to engine room.1 x A Merex Purple K1 x Ajax1 x A Merex Halotron |
| Fire Extinguishers | 11 x handheld found throughout the yacht |
| Fire Pump / Hoses | 1 amidships |
| Fire Blankets | 2 |
| Fire Alarms | Yes |
---
Sails and Rigging
Azzura's rigging has been maintained every year by Colin Kiley, formerly with OYS and now Global BSI.  In 2007 the mast and boom were pulled from the boat and painted; all rigging was re-cold headed and reinstalled or replaced as necessary.  Both headsails are Reckmann roller-furling; all units were reconditioned by Reckmann. In-mast main furling, also completely serviced, is by Nirvana, the mast builders. Sails were completely refurbished by sail maker.
| | |
| --- | --- |
| Mast / Boom | Aluminum; Nirvana, roller-furling in-mast, captive winch for hydraulic outhaul; hydraulic boom vang. |
| Main Sail | Halsey-Lidgard,  Dynema cloth (New 2004) |
| Genoa | Halsey-Lidgard, 120%, Dynema |
| Stay Sail | Doyle (new 2008) |
| | MPS |
| Rod Rigging | Navtec |
---
Water Sports & Recreation
| | |
| --- | --- |
| Tender(s) | 1 x14'Novurania rigid bottom MX430 with 60hp Yamaha engine (New 2008); Stored in garage aft1 x 10" Avon with 15 hp Johnson engine |
| Water Skis | Yes |
| Wake Board | Yes |
| Snorkel gear | Yes |
| Scuba | Dive compressor |
---
Other Features/Equipment
| | |
| --- | --- |
| Passerelle | Hydraulic Hydromar |
| Ladder | 1 x Side boarding manual1 x Swim ladder off aft platform |
| Stairs | Aft transom |
---
Remarks
Azzura is the pinnacle of excellence. Doug Petersen designed, Jongert built, and with a refit at the mother yard in 2007, you can't get any better than this.  Most famous for her extraordinarily shallow draft with the keel up and hydraulic retracting roof, this is one of the few 96' yachts an owner can dock behind a house in Sarasota.  Jongert details are legendary: as an example, beneath each porthole is an indentation to collect stray water and an internal scupper system takes it to a grey water tank. Do yourself a favor: find out about this yacht.   Azzura is in unbelievable condition, ready to go anywhere immediately. NOT FOR SALE TO U.S. RESIDENTS WHILE IN U.S. WATERS.
---
Features
Please inquire about the comprehensive list of work done during the refit at the Jongert yard.
---
Exclusions
Owner's personal effects.  Please inquire.
---
Disclaimer
The Company offers the details of this vessel in good faith but cannot guarantee or warrant the accuracy of this information nor warrant the condition of the vessel. A buyer should instruct his agents, or his surveyors, to investigate such details as the buyer desires validated. This vessel is offered subject to prior sale, price change, or withdrawal without notice.
---
Cockpit
Cockpit
Cockpit Helm
Cockpit Dining
Pilothouse
Helm
Nav Station
Salon
Salon
Dining
Master SR
Master SR
Master Bath
Guest SR
Dinette
Engine Room